Japan's 30th Anniverary Embu Taikai A Great Success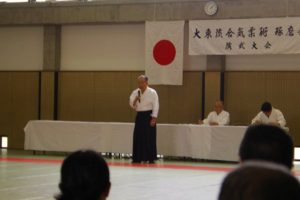 On May 3rd Takumakai Daito-ryu members from around the world gathered together in Osaka Japan to celebrate 30 years of Takumakai's annual Embu Taikai. There was a gathering of over 300 Aiki Jujutsuka to share and demonstrate the waza of Daito-ryu. This year's embu had a theme of the knife, so many Dojo demonstrated with bladed weapons featuring their use and defences from such attacks. There were many other types of demonstrations as well, including the use of goshin gun defence waza, Nito ryu (two swords) and a variety of high level Aiki no Jutsu techniques.
The event was also marked by excellent immersive training seminars held by some of the leading shihan of Takumakai Daito-ryu including Mori sensei, Kawabe sensei, Kobayashi sensei and Anoiki sensei.
On a personal level it was excellent to renew friendships with Budo friends from across the globe including Leigh Dicker (Melbourne), Jean Gonzalez (France), Jyrki Rytila (Finland) and Rodrigo Kong (USA). It was also wonderful to meet many new people from Dojo's in Japan the USA and Finland. The Japanese Budoka felt very heartened by the solidarity shown by the international members who attended the Embu in spite of fears of the ongoing nature of the recent earthquake and nuclear disasters that have affected Japan. This was a truly inspiring event where all people strove to be their best, in all it was a resounding success, a reflection of the unity and diversity of the Takumakai Bujutsu family.